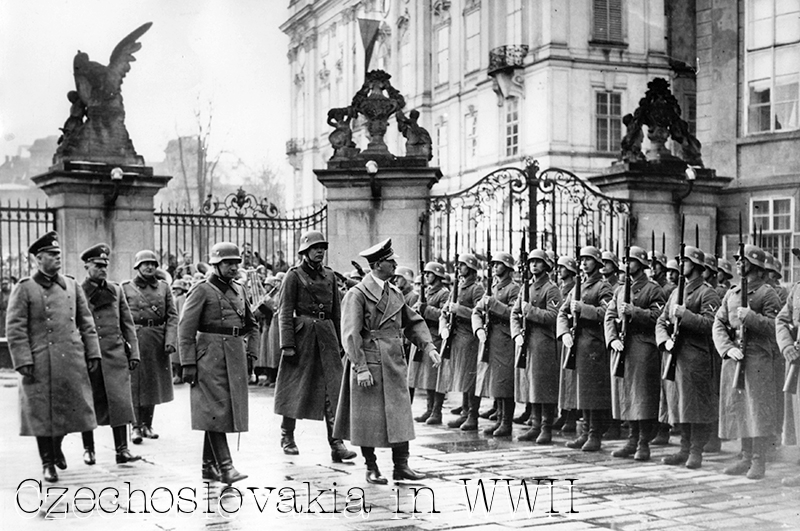 Czechoslovakia in WWII
The long-awaited post! At least for me. I finally, finally checked out and read another WWII story, just for the sake of a new history post. I was really beginning to miss those.
Now, before I continue, let me just say how much I loved this book. I was able to read it in one sitting and, as soon as I was through, desperately wanted to reread it. I highly recommend Joan M. Wolf's Someone Named Eva.
Summary: When the Gestapo raid the village of Lidice, Milada is taken away from her best friend and her family. Thanks to her Aryan looks, Milada is taken to a special school in Poland, where she is dubbed Eva and then spends the next two years being indoctrinated with Nazi ideology, all so that she can become the perfect German wife one day. At the end of her schooling, Eva is adopted into a very important SS family, and while she doesn't exactly trust Herr Werner (and for good reason, since he runs Rävensbruck, which is practically in his backyard), she comes to love her new Mutter, her new sister Elsbeth, and even her new pesky brother Peter. But she dreams of the day when the war is over and she can return to her family and her beloved Czechoslovakia. Her grandmother's pin becomes the only piece of her from her former life.
On March 15, 1939, Hitler's men marched into Czechoslovakia.
After that, Slovakia became an independent state (though supported by Hitler), while the Czech government was taken over by Hitler.
Forced to proclaim their non-Jewish, non-Roma heritage by showing family trees as far back as their grandparents, with harsh rationing, and blackouts, most Czechs felt trapped. Many even sough suicide as a way out. Swastika flags lined their streets, as did SS guards. Still more drove through the streets in Swastika-decorated vehicles. School books were replaced with pro-Nazi books. Likewise, any permitted books, music, and plays were filled with Nazi propaganda. And the only movies allowed could not be nationalistic and had to contain German subtitles. Foreign radio stations and political jokes were banned. And, as in any Nazi-occupied zone, executions were regular. It's no wonder so many people preferred suicide.
As the war wore on, conditions grew worse. Their streets were garbage-ridden. Most people worked 64 hours per week, with "as many as 10 hours on Sunday" (Source). Between these long hours and poor diets, infectious diseases were common. By 1944, most shops in Prague were closed due to lack of supplies.
[Below: German troops move into Prague]
Like many other occupied countries, Czechoslovakia had a well-organized resistance group. Their resistance was tightly collaborated with Britain, and some 2,489 men fought with the 11th Infantry Battalion-East from both Slovakia and the Czech government.
Then, after the German invasion of the Soviet Union, Czech communists formed a Soviet intelligence organization in Prague. (Which did them a whole lot of good, considering the post-war Soviet occupation that lasted oh . . . decades.)
"Operation Anthropoid was the code name for the assassination plot of the Nazi leader, Reinhard Heydrich" (Source). In 1941, Hitler sent Heydrich (father of Operation Reinhard) to Prague. Wasting no time with his new assignment, he handed out death sentences as soon as the next day. This earned him nicknames such as "The Butcher of Prague" and "The Hangman."
Wanting to "stir up the nation's consciousness," seven paratroopers were chosen to assassinate Heydrich" (Source). Unfortunately, the Gestapo got wind of their plan and were able to attack them down in a Prague church. In the subsequent shootout, three of the men died "trying to buy time for the others who were attempting to dig an escape route" (Source). These four later took their own lives with their remaining bullets.
The onslaught was devastating. Karl Herrmann, Heydrich's successor, had 10,000 Czechs executed. Additionally, two villages were leveled, one of them Milada's Lidice.
On June 10, 1942, Hitler ordered the Gestapo to murder "all 173 males over 15″ (Source). Later, several others were arrested and executed.
At the same time, some 184 women and 88 children were deported to concentration camps (such as Rävensbruck). Those few children who looked German enough (such as Milada) were Germanized and then handed over to SS families. The remaining children were sent to Chetmo Execution Camp and gassed.
Meanwhile, the village of Lidice "was set on fire and the remains of the buildings were destroyed with explosives" (Source). All animals were slaughtered. The graves were dug up and looted. Even streams and roads were rerouted. And, lastly, the entire area was covered with topsoil and crops were planted.
After the war, only 153 women and 17 children returned.
[Below: Lidice in the 1930s]
Up Next:
The Three Kings: The Czechoslovakian Resistance