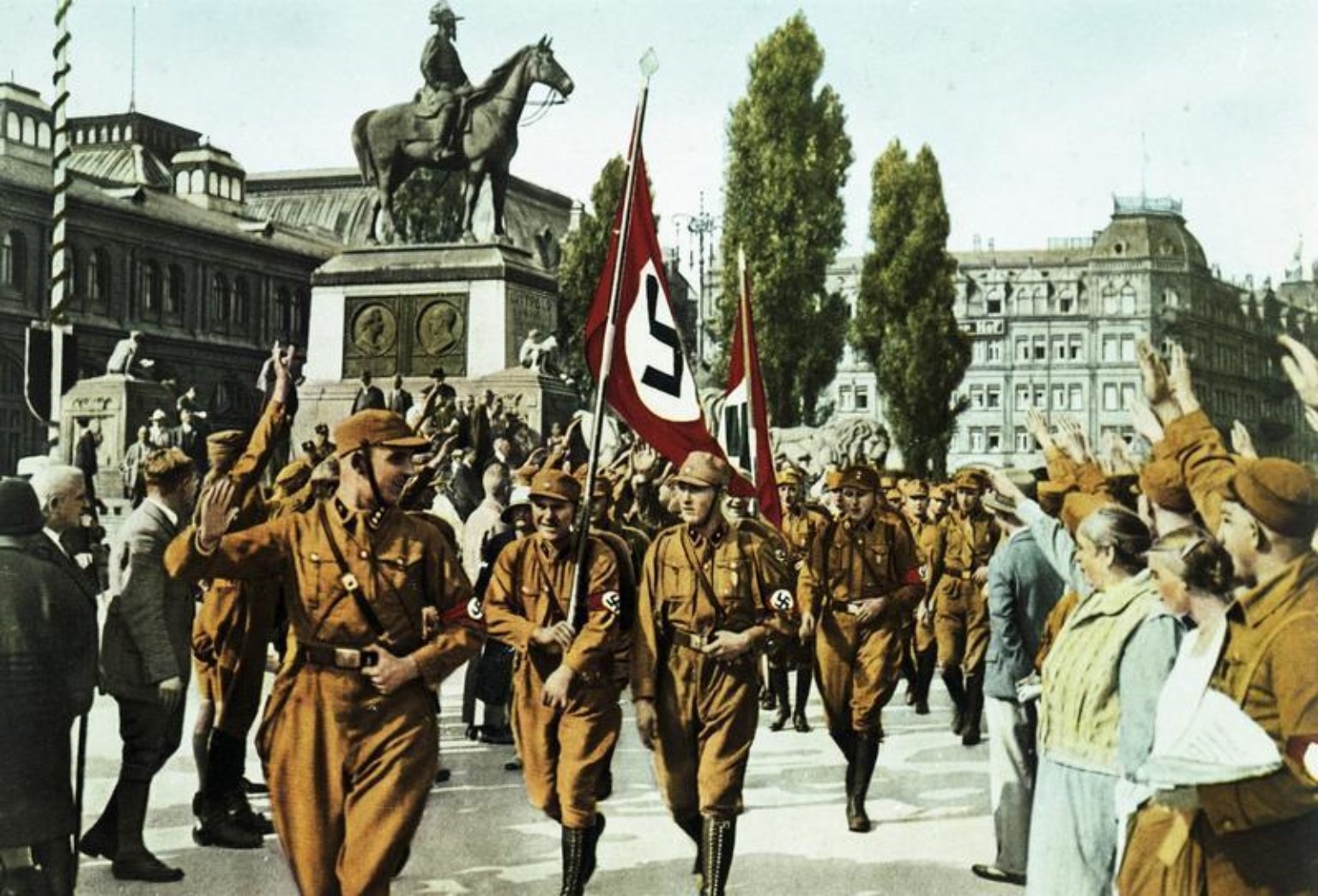 The Night of Long Knives
June 30-July 2, 1934: Operation Hummingbird: A purge in Nazi Germany, designed to insure and strengthen Hitler's absolute power over Germany.
Background:
By mid-1934, there were over 4,000 Nazi stormtroopers (SA) or "brown shirts" (Gretchen's brother, Reinhard, in Prisoner of Night and Fog &Conspiracy of Blood and Smoke was a brown shirt).
The SA was a paramilitary branch of the NSDAP and significant to Hitler's rise to power. "It's primary purposes were providing protection for Nazi rallies and assemblies, disrupting the meetings of opposing parties, fighting against the paramilitary units of the opposing parties, especially the Red Front Fighters League (Rotfrontkämpferbund) of the Communist Party of Germany (KPD), and intimidating Slavic and Romani people, unionists, and Jews – for instance, during the Nazi boycott of Jewish businesses" (Source). However, they predated Hitler's Nazi party, having originally been used in WWI as specialized assault troops.
While the SA helped Hitler gain power, once Hitler and his Nazis had said power, it became clear that the SA was becoming "increasingly eager for power itself" (Source). As a way to prevent too much SA power, Hitler reassigned the off-shoot branch, the SS, to Heinrich Himmler. And, as a result, the SS became more and more important to Hitler, slowly replacing the SA as his official bodyguards. He simply came to see them as being "better suited to carry out [his] policies, including those of a criminal nature" (Source).
See, the SA took more seriously the "socialist" part of National Socialism then, perhaps, Hitler wanted them to. They wanted a second revolution, even though other Nazis were completely content with the results of their first.
Meanwhile, they and their leader, Ernst Röhm, were posing a real threat to the regular Army High Command, whom Hitler had promised to restore to "former military glory and break the 'shackles' of the Treaty of Versailles, which limited the Army to 100,000 men and prevented modernization" (Source).
A former street brawler himself, Röhm had been with Hitler from the very beginning, an instrumental part. As a result, Röhm had been given a seat at the National Defence Council, where over time, he became more and more demanding about his say in military matters, much to the annoyance and concern of other members, General Werner von Blomberg (Minister of Defence) and General Walther von Reichenau (Chief of the Reichswehr's Ministerial Department).
[Below: An SA parade with leader, Ernest Röhm]
Meanwhile, the SA party members were becoming more disliked throughout Germany because of their "arrogant, gangster-like behavior, such as extorting money from local shop owners, driving around in fancy new cars showing off, often getting drunk, beating up and even murdering innocent civilians" (Source). Many of Hitler's lieutenants (even Hitler himself) were becoming progressively more worried by Röhm's "growing power and restlessness" (Source). SS leaders Heinrich Himmler and Reinhard Heydrich, along with Hermann Göring, Joseph Goebbels, and Rudolf Hess began plotting against Röhm. By May 1934, "lists of those to be 'liquidated' started to circulate amongst Göring and Himmler's people, who engaged in a trade, adding enemies of one in exchange for sparing friends of the other" (Source).
Many world leaders tried telling Hitler the importance of taking away power from Röhm and the SA. But he didn't immediately listen. Eventually, Blomberg had to warn Hitler that if he did not intervene himself, "that Hindenburg was close to declaring martial law and turning the government over to the Reichswehr if Hitler did not take immediate steps against Röhm and his brownshirts" (Source). This pressure gave Hitler no choice but to act. He now intended both "destroying Röhm and settling scores with old enemies" (Source).
In preparation, Himmler and Heydrich concocted evidence suggesting that "Röhm had been paid 12 million Reichsmark by France to overthrow Hitler" (Source). On June 25, the Reichswehr were placed on high alert and the promise of the army's full cooperation was secured.
On June 30, "Hitler first ordered the arrest of the SA" (Source). That taken care of, a car took Hitler, Hess, and others to an SS-secured resort hotel, where Röhm and the present SA men were arrested and sent to Stadelheim prison (just outside Munich) to be executed.
At 10 am, Hitler called Göring in Berlin, exchanging the code word: Hummingbird. This code word unleashed "a wave of murderous violence in Berlin and twenty other cities" (Source). The SS and Göring's own personal police took to the streets, executing anyone appearing on the prepared list. Röhm, however, was "given a pistol containing a single bullet to commit suicide" (Source). But Röhm refused, insisting Hitler had to do it. Instead, SS guards, Theodore Eicke (commander of the Totenkopf (Death's Head) guards at Dachau), entered Röhm's cell and "shot him point blank" (Source).
The bloody purge lasted until July 2nd, but did not end before Hitler held a tea party for his cabinet members in the garden of the Chancellory as a ploy to ensure citizens that all was going back to normal. When it was all over, deaths totaled, some say, as high as 1,000 or more. Only half of those deaths were actually SA officials.
On July 13, Hitler gave a speech announcing the 74 "justified murders": "If anyone reproaches me and asks why I did not resort to the regular courts of justice, then all I can say is this: In this hour I was responsible for the fate of the German people, and thereby I became the supreme judge of the German people" (Source).
By he proclaiming himself the supreme judge of Germany, he placed himself above law, making his word law. And, by aiding Hitler in the raid, the German army aligned themselves with Hitler.
[Below: Removal of Murdered SA bodies.]
Up Next:
Hitler's Violation of the Treaty of Versailles