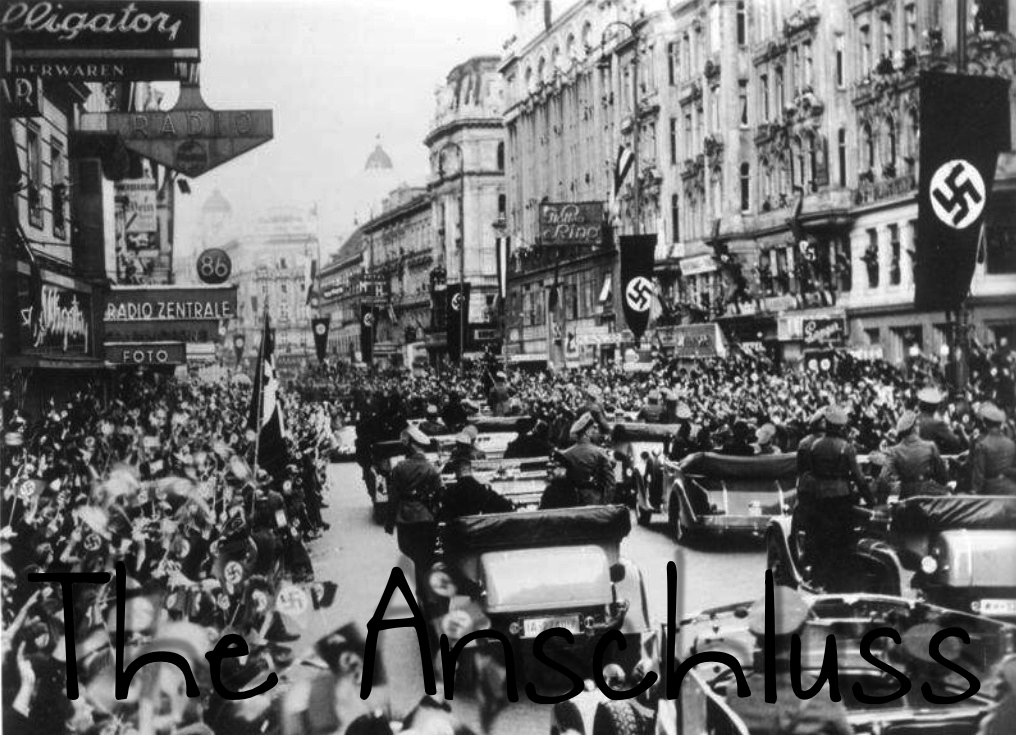 The Anschluss
A little late, admittedly, but I feel like things are (at least starting to get) back on track!!
On March 12, 1938, Hitler announced the Anschluss – or the "union" with Austria, successfully annexing the country. In other words, Hitler made Austria a subordinate addition to Germany.
Since 1919, a union between Germany and Austria had long been a dream of Austrian Social Democrats. It'd also been a major goal of Hitler's, who was a native Austrian. However, in an ironic twist, such a proposition seemed much less attractive to the Austrians, following Hitler's rise to all-powerful authoritarian rule in 1933. However, despite the lack of full support within Austrian Social Democrats, "the rise of a pro-Nazi right-wing party within Austria in the mid-1930′s paved the way for Hitler to make his move (Source).
As with many European countries after WWI, Austria was "weakened by a period of economic stagnation and political strife" (Source). Because of this, as early as a year and a half after Hitler came to power, Nazis attempted to take control of the Austrian government. They only managed to assassinate the chancellor. Kurt von Schuschnigg was named in his place. His reign as chancellor was not necessarily successful, thanks in part to the Nazis, and made supremely worse by Germany's pact with Italy (who, up until this time, had been aiding Austria).
Of course, Hitler's goal all along had been to unite the two countries. But, in order to do so, he had to play his game carefully, since the Treaty of Versailles forbade any such maneuvers. So, he directed his Nazi party leaders in Austria to reek as much havoc as they could: "His Austrian Nazis held parades and marches, set buildings on fire, let off bombs and organized fights" (Source).
It was on February 12, 1938, then, that Austrian Chancellor von Schuschnigg, reluctantly not only agreed to "a greater Nazi presence" in Austria, but also agreed to appoint a Nazi minister of police, and even went so far as to announce "an amnesty for all Nazi prisoners" (Source).
Like many others before and after him, von Schuschnigg believed that appeasing Hitler would help prevent future invasion. But as seems to always be the case with Hitler, this was only the beginning.
See, shortly after von Schuschnigg made this agreement with Hitler, he attempted to deny any agreement signed at Berchtesgaden, "demanding a plebiscite [vote] on the question" (Source). This failed, and von Schuschnigg was forced to resign.
Von Schuschnigg claimed Austrians wanted a "free, independent, social, Christian united Austria" (Source).
However, even the Austrian President, Wilhelm Miklas, refused to cooperate. Desperate, Hermann Göring was forced to fake a crisis within the Austrian government.
[Below: Cheering crowds greet the Germans in Vienna.]
On March 12, "German troops entered Austria, and one day later, Austria was incorporated into Germany" (Source).
The evening of March 12, (after a stop in his birthplace, Braunau), Hitler was "enthusiastically welcomed" at the Linz city hall (Source). Here, he finally named Arthur Seyss-Inquart the governor of Austria, something he had tried and failed to do earlier, thanks to von Schuschnigg and Miklas.
Surprisingly, the Nazi presence was greeted with "enthusiastic support" and when von Schuschnigg's earlier-planned plebiscite was carried through in April, the Anschluss was approved. Admittedly, the results were manipulated to give the Anschluss "more than 99%" approval – that, and both Jews and Roma were forbidden to vote (Source).
Immediately, antisemitic actions spread throughout the country, coupled, of course, with political violence. Those who had previously held government positions were arrested, along with anyone who opposed Hitler and his Nazis, as well as Communists and Social Democrats. As always, the Jews took the brunt of the humiliation and violence. Gestapo and Nazi sympathizers "looted Jewish belongings, seized Jewish businesses, and arrested those who refused to surrender their property. Furthermore, anti-Jewish legislation was in place almost immediately, forcing Jews from their positions, and essentially expelling them from the country's economic, social, and cultural life" (Source).
On March 13, Hitler announced that Austria was a province of Ostmark. On the 15th, he travelled to Vienna, where he gave a speech declaring that Germany was Austria's "liberators."
Even then, he did everything in his power to suppress opposition, and as many as 70,000 people were arrested. At this time, thousands of German troops moved into the now German-controlled Austria. There was no Allied military action to oppose this move.
This was only the first step to combine all ethnic Germans into one, large German-controlled country. "Having succeeded in gaining Austria, Hitler then used similar tactics to gain the Sudetenland area of Czechoslovakia that contained over three million Germans" (Source).
[Below: Members of the League of German Girls wave Nazi flags in support of the German annexation of Austria in Vienna, Austria, March 1938]
Up Next:
Austria in WWII