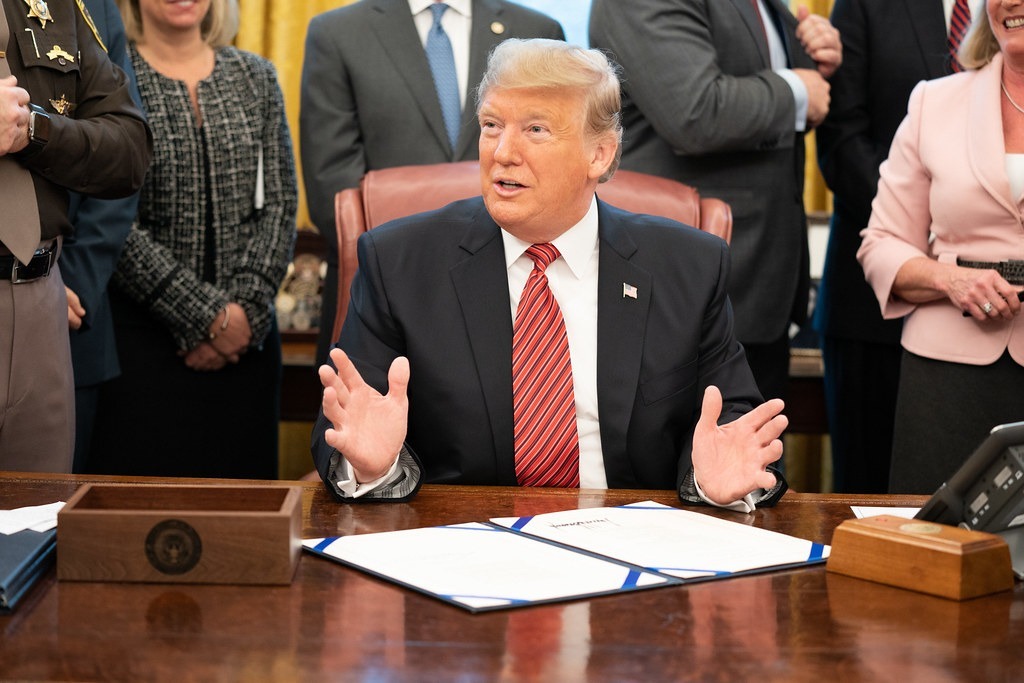 Ukraine, Human Trafficking, and the Impeachment
The question is, did President Trump have a good reason to withhold funds from Ukraine? We have not heard the other side of that story. The media has been slow to report the Presidents side of the story and less than stellar in reporting testimonies and arguments from President Trump's legal team. Well USA-eVote has uncovered a few facts about that case and those charges that should shock and alarm the American public and put an end to all this BS that has been floating around and in this case, subjectively reported to the American public. Let's take a look at the actual facts. Then you as an American voter can make an informed decision and take the necessary action.
So far we have only heard one side of the argument. That one sided reporting tells us, President Trump withheld funds from Ukraine in an attempt to force an investigation into Joe Biden's son in the Ukraine. That could not be further from the truth. Hunter Biden's dealings in Ukraine are public record and President Trump doesn't need any help from any source foreign or domestic. Democrats conjured up that story to force their concept of illegal activity in the President's office. Which of course is not an impeachable offense. But the facts go much deeper. There is a host of information not reported by the leading news agencies playing their games on Television and social media. It is all a numbers game aimed at increasing revenue. The truth does not sell.
While investigating the facts one piece of reality hit home at USA-eVote. Take a look at the major news agencies online. What do you see? A request to buy a subscription so you can read all of their news. News agencies are trying to sell subscriptions. On the other side of that coin we have fake news sites. Fake news agencies make money from ads. Many of the ads on the fake news sites contain viruses and spyware, including versions of ransom viruses. What kind of world do we live in? USA-eVote has learned to use official government sites to gather information. Look for the .gov at the end of the website address.
Here are two articles that every American should find interesting and shocking. The first is about President Trump's passionate battle against human slavery, human trafficking, and the sex trade.
COMMITTED TO ERADICATING HUMAN TRAFFICKING: President Trump has signed four bills in recent weeks that demonstrate the bipartisan commitment to end human trafficking.
Today, the President is signing the Trafficking Victims Protection Reauthorization Act (S. 1862) which tightens criteria for whether countries are meeting standards for eliminating trafficking.
The President signed the Abolish Human Trafficking Act in December, which strengthens programs supporting survivors and resources for combating modern slavery.
President Trump signed the Frederick Douglass Trafficking Victims Prevention and Protection Reauthorization Act, authorizing $430 million to fight sex and labor trafficking.
The President signed the Trafficking Victims Protection Act (S. 1312), establishing new prevention, prosecution, and collaboration initiative to bring human traffickers to justice.
In addition to these efforts, Congress needs to pass legislation that strengthens border security and prevents human trafficking in all forms.
Source: https://www.whitehouse.gov/briefings-statements/president-donald-j-trump-fighting-eradicate-human-trafficking/
How is this related to funds given to Ukraine? Let's take a look at Ukraine's recent history.
Ukraine is a source, transit, and destination country for men, women, and children trafficked transnationally for the purposes of commercial sexual exploitation and forced labor. Ukrainian women are trafficked to Russia, Poland, Turkey, China, the Czech Republic, the United Arab Emirates, Austria, Italy, Portugal, Germany, Greece, Israel, Spain, Lebanon, Hungary, Slovak Republic, Cyprus, United Kingdom, Netherlands, Serbia, Argentina, Norway, Iran, Bahrain and The United States. The majority of Ukrainian labor trafficking victims were men exploited in Russia, the Czech Republic and Poland, primarily forced to work as construction laborers, sailors, and factory and agriculture workers. There are indications Ukraine is a destination for people from neighboring countries trafficked for forced labor and sexual exploitation. In addition, trafficking occurs within Ukraine; men and women are trafficked within the country for the purposes of labor exploitation in the agriculture and service sectors, commercial sexual exploitation, and forced begging. Ukrainian children are trafficked both internally and transnationally for commercial sexual exploitation, forced begging, and involuntary servitude in the agriculture industry. An IOM survey released in December 2006 concluded that since 1991, approximately 117,000 Ukrainians had been forced into exploitative situations in Europe, the Middle East, and Russia. In 2008 the Government of Ukraine did not fully comply with the minimum standards for the elimination of trafficking; however, it was making significant efforts to do so. While there was little evidence of efforts to curb trafficking complicity of government officials and of concrete steps to protect and assist trafficking victims at the national level, local governments made some progress on victim assistance. The government also made modest, but tangible, progress in improving the punishment of convicted traffickers, prosecuting labor trafficking, training the judiciary, and carrying out prevention activities.[1] U.S. State Department's Office to Monitor and Combat Trafficking in Persons placed the country in "Tier 2" in 2017.[2]
Source: https://en.wikipedia.org/wiki/Human_trafficking_in_Ukraine
Put 2 and 2 together and what do you see? Wouldn't President Trump have broken the law he endorsed and signed by giving funds to a country known for human trafficking? Ask yourself, did President Trump have reason to place a hold on funds the House of Representatives designated to Ukraine? Was President Trump looking after his own interests, or the interests of human slaves with no rights? When you put the facts together, you walk away with quite a different story than the stories we are spoon fed in both the impeachment testimonies and from the general new media.
The actual bills to eliminate human trafficking:
This bill modifies the criteria for evaluating whether countries are meeting the minimum standards for combating human trafficking.
The President shall ensure that federal agencies limit grants and contracts to entities that do not engage in various activities related to human trafficking. Under the bill, one prohibited activity is charging employees for placement or recruitment fees. Previously, entities could charge such fees as long as they were reasonable.
https://www.congress.gov/bill/115th-congress/senate-bill/1862
This bill sets forth a variety of measures to address the prevention and punishment of human trafficking and to assist trafficking victims. Included among these are provisions concerning:
restitution for victims;
funding of investigations of offenses relating to sexual abuse of children;
grants to states and localities and other entities for victim service assistance;
training of health, victim service, and federal law enforcement personnel, including through the use of a victim screening protocol by the Department of Homeland Security;
penalties imposed for slavery offenses, sex trafficking of children, and repeat convictions for transportation for illegal sexual activity and related crimes;
travel for the purpose of engaging in any illicit sexual conduct;
designation of additional Department of Justice resources for prosecution and service coordination;
penalties for offenses involving organized human trafficking, sexual abuse, sexual exploitation, or transportation for prostitution or any illegal sexual activity; and
studies of the physical and psychological effects of serious harm to victims.
https://www.congress.gov/bill/115th-congress/senate-bill/1311
This bill establishes programs to combat human trafficking, forced labor, and the use of child soldiers. It also modifies existing programs to address such issues.
The Department of Health and Human Services (HHS) may award grants to local educational agencies to educate school staff on how to recognize and respond to signs of labor and sex trafficking, and to educate students on how to avoid becoming trafficking victims.
The Department of State shall ensure that each diplomatic or consular post has a designated employee to receive information from severe trafficking victims or information about such victims. The information shall be transmitted to the relevant agencies, and the designated employee shall coordinate with foreign government and groups to provide support to the victims.
Domestic air carriers that contract to provide air transportation to the federal government shall report annually various information related to human trafficking. Such information shall include the number of carrier personnel that are trained in detecting and reporting potential trafficking, and the number of notifications of potential human trafficking victims the carrier has received.
The bill directs various government agencies, including the State Department and the Department of Labor, to annually report to the General Services Administration information related to efforts to ensure compliance with various laws and regulations relating to human trafficking. The report shall also contain information on investigations into contractors that may have violated such laws and regulations.
https://www.congress.gov/bill/115th-congress/house-bill/2200
TITLE I–FREDERICK DOUGLASS TRAFFICKING PREVENTION ACT OF 2017
(Sec. 101) This bill amends the Omnibus Crime Control and Safe Streets Act of 1968 to specify that Community Oriented Policing Services program grants to hire school resource officers may also be used to train such officers to recognize and respond to signs of human trafficking.
(Sec. 102) It amends the Violent Crime Control and Law Enforcement Act of 1994 to reauthorize through FY2022 the Creating Hope Through Outreach, Options, Services, and Education for Children and Youth (i.e., CHOOSE Children & Youth) grant program.
TITLE II–JUSTICE FOR TRAFFICKING VICTIMS
(Sec. 201) The bill amends the federal criminal code to authorize the Department of Justice (DOJ) to bring a civil action to stop or prevent criminal offenses related to: (1) peonage, slavery, involuntary servitude, forced labor, and trafficking; (2) sexual exploitation and other abuse of children; or (3) sexual abuse.
https://www.congress.gov/bill/115th-congress/senate-bill/1312
Based on documented facts, President Trump has been actively combating human trafficking since 2017. Of course those bills have been introduced, written, and modified since Trump took office.
Thus far USA-eVote has only cracked an egg to see what is inside. This brings up a number of questions.
What was the timing in relationship to the bill introduced to Congress and funds being withheld from Ukraine?
What is the make up of the Democratic-Socialist government in Ukraine?
What was Biden's role and influence in forging a Democratic-Socialist government in Ukraine?
Is there a link between Hunter Biden's job in Ukraine and human trafficking?
What makes President Trump so passionate about fighting human trafficking?
As time allows, we will look into those questions. Feel free to post information you uncover.