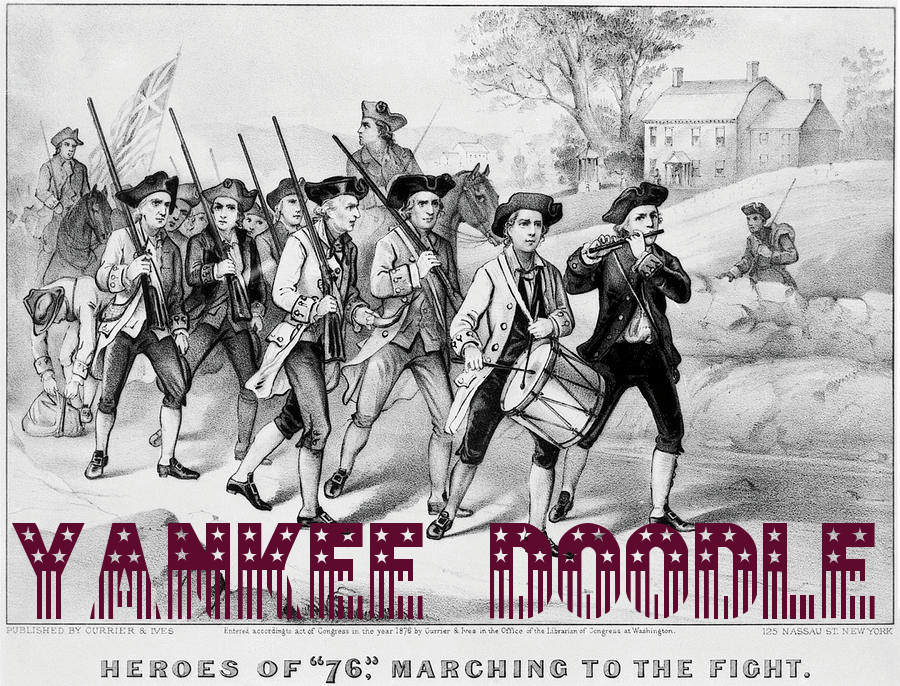 Yankee Doodle
Yankee Doodle went to town
A-riding on a pony,
Stuck a feather in his cap
And called it macaroni .
[Chorus]
Yankee Doodle keep it up,
Yankee Doodle dandy,
Mind the music and the step,
And with the girls be handy.
Surprisingly, "Yankee Doodle" was not initially an American song. In fact, it was written by a British army physician named Dr. Richard Schuckberg during the French and Indian War.
And, despite the pride Americans have taken in singing this song since the dawn of the American Revolution, the song actually mocks Americans. Just one verse of the initial version looked something like this:
Brother Ephraim sold his cow
And bought him a commission
And then he went to Canada
To fight for the nation;
But when Ephraim,
he came home
He proved an arrant coward,
He wouldn't fight the
Frenchmen there
For fear of being devoured (Source).
Basically, the British thought that the Americans were unsophisticated simpletons. That is basically the exact translation of a Yankee Doodle. But the derogatory remarks got worse as the verse went on. The phrase 'stuck a feather in his hat and called him macaroni' implied that the Americans were such simpletons that they believed "that merely sticking a feather in his hat would turn him into a suave sophisticate like a European" (Source). See, macaroni did not refer to pasta, but to an English dandy with affected fashions and mannerisms. A dandy is, essentially, an immaculately and fashionably dressed man.
Then, in 1775, a minuteman by the name of Edward Bangs wrote a new version of the song. This told the story of a young boy visiting an army camp after George Washington had taken command.
And there was Captain Washington
And gentle folks about him;
They say he's grown so tarnal proud
He will not ride without them. (Source).
Despite the negative connotations about the American Colonists, they'd come to enjoy the tune. And, during the Revolutionary War, they learned that, really, anyone could make up verses for Yankee Doodle. One of their very favorite versions went as follows:
Yankee Doodle is the tune
That we all delight in;
It suits for feasts, it suits for fun,
And just as well for fightin'.
In short, Yankee Doodle had become, well, a Yankee Anthem. The men could make up verses as they marched, and delighted in singing them loudly.
Then!
As the British marched to their surrender, "they marched with their heads turned toward the French troops. They were trying to pretend the Americans did not exist" (Source). So, Frenchman, Marquis de Lafayette, the commander of the Light Infantry Brigade, ordered the band to play Yankee Doodle. "With a blast of drums and a swirl of fifes, the musicians hurled themselves into their favorite song. Every British head was jerked around, and they stared into the faces of their former subjects" (Source).
[Below: Yankee Doodle Band]
The song remained popular throughout the Civil War, where the South took a cue from the British and made up unflattering lyrics about the North. Then, in 1904, the song took on a new look, when George M. Cohan wrote the lyrics to "The Yankee Doodle Boy" for his play Little Johnny Jones. The play was about a American jockey, Johnny Jones, and his horse Yankee Doodle, riding in the English Derby. And then in 1942 – during WWII – this version of the song was used in James Cagney's Yankee Doodle Dandy, a musical about the life of George M. Cohan.
I'm a Yankee Doodle Dandy
A Yankee Doodle, do or die
A real live nephew of my uncle Sam's
Born on the Fourth of July
I've got a Yankee Doodle sweetheart
She's my Yankee Doodle joy
Yankee Doodle came to London
Just to ride the ponies
I am a Yankee Doodle boy
The filming for Yankee Doodle Dandy began before Pearl Harbor, and it was released mere months afterward, meaning the timing was perfect for a good patriotic-themed movie. In fact, according to a story by Joan Leslie, the cast was "standing around the radio on set listening to the broadcast when Pearl Harbor was attacked," after the broadcast, "Cagney called for a prayer and then director Michael Curtiz [exclaimed] 'Well, we've got a great story to tell here about America. Let's get to work and do a good job on it, and make it representative of our spirit today'" (Source).
Yankee Doodle Dandy premiered at New York's Hollywood Theatre on Memorial Day weekend (May 29), where "tickets were available only to those who bought War Bonds" (Source). At this point in history, what Americans needed most was the flag-waving, the patriotic songs, and most of all, the "teary-eyed love for America" (Source).
Fact is, we need that today as much as we did during WWII or the Revolution. So, next time we hear "Yankee Doodle," let's remember our Forefathers and all those men who gave their lives, and let's sing it out with the same pride our minutemen did.
[Below: Yankee Doodle Dandy premiere.]
Yankee Doodle Dandy featuring the Army Chorus
[iframe src="" width="700″ height="500″ scrolling="auto" ]
Up Next:
The Liberty Song